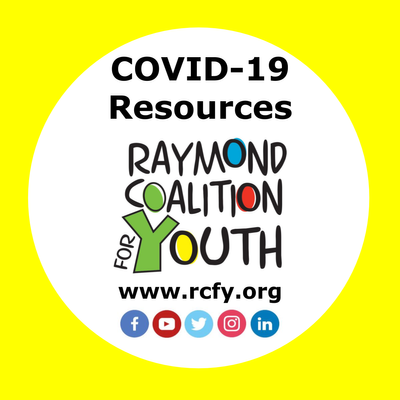 COVID-19: People Resources - We are Here for You & Your Family
We realize these are difficult and uncertain times and that can cause anxiety for many people, even those who have never experienced it before, and that is to be expected and okay.  
It is how we work together as a community to support each other that is and will be important.   
We will be doing our best to keep this page updated with resources for parents and youth to help take care of our mental health, as well as substance misuse recovery supports and access to treatment.
Family Resources:
The Raymond School District is offering free emergency breakfast & lunch meals to K-12 students in our community during school's closure due to COVID-19:
Tools for Stress, Anxiety & Mental Health:
Did you know that you can take (or offer) a FREE and CONFIDENTIAL Mental Health Screening online? This quick "checkup from the neck up" is a useful tool to assess whether or not the person taking the screening should connect with a mental health specialist. It is completely anonymous and confidential, and immediately following the brief questionnaire you will see the results, recommendations, and key resources.

The NH Department of Health and Human Services has compiled a great list of resources on "Behavioral Health During COVID-19". The focus of this digital two-pager is on how to cope with stress during a pandemic and includes tips, links to trusted sources of information on behavioral health, and resources on meditation, breathing, and skill-building. Also included are resources for parents and caregivers, those in recovery, and first responders. Access the document here:
Treatment Resources:
They remain open and are providing support to their clients. They provide IOP and MAT to clients attending their program. The schedules remain the same at both their Salem and Portsmouth locations (nighttime and daytime IOP). "We are abiding by recommendations regarding Covid-19 and are taking every precaution, making efforts to clean surfaces and areas as suggested. We continue to accept referrals and are here as a resource. If things change, we will be sure to notify our community partners. Please don't hesitate to call with any concerns."

As of 4/21/2020, the are utilizing telehealth to continue to provide services to MAT (medically assisted treatment) and outpatient clients. Be sure to call first whether you're a new or existing patient.

Substance use disorder treatment and support are still available through the Doorways during #COVID19.

Call 211 to connect with the Doorway nearest you.

211 in NH is a resource that is growing and expanding daily:

211 NH offers up to date resources they need from specially trained Information and Referral Specialists. 211 NH is available 24 hours, 365 days a year. Multilingual assistance and TDD access are also available. For those who are outside of New Hampshire, call 1.866.444.4211.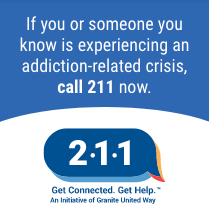 Recovery Supports:
What people with a substance use disorder need to know about COVID-19
Recovery Resources
Please visit our Treatment and Recovery Resources page - we will be keeping it updated as we receive information. 
Parenting in Recovery: While you're trying to figure out your new normal at home, it is important to find distractions for yourself and your children. 
Online Recovery Meetings and Groups: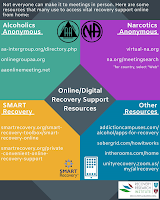 Alcoholics Anonymous:
aa-intergroup.org/directory.php - Video and call-in meetings available 7 days a week
onlinegroupaa.org
aaonlinemeeting.net
NHAA Hotline:
800-593-3330
Narcotics Anonymous:
NA now has a nationwide phone line for virtual meetings. Just text your city and state (ex. Raymond, NH) to +1 (833) 716-0080 and it will text you back the next 5 virtual meetings in your time zone. When calling in you can search by city, state or zip code.
virtual-na.org - Video and call-in meetings available 7 days a week. International meetings available as well.
na.org/meetingsearch - (for country, select "web")
NA Granite State/Seacoast Helpline:
Toll-Free: 888-NA-HELP-U (888-624-3578)
Smart Recovery - Self-Management and Recovery Training Online meetings and forums, non-12-Step based. Lots of literature, podcasts, and videos:
smartrecovery.org/smart-recovery-toolbox/smart-recovery-online
smartrecovery.org/provate-convenient-online-recovery-support
Other Resources:
addictioncampuses.com/alcohol/apps-for-recovery
sobergrid.com/howitworks
intherooms.com/home
unityrecovery.zoom.us/my/allrecovery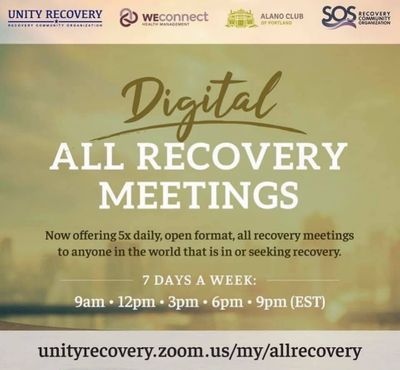 In The Rooms: Online recovery resource that does 117 live online recovery meetings weekly (12 step and non-12-step): https://www.intherooms.com/home/category/community-and-meetings/

"Our centers are currently closed due to the COVID-19 Pandemic.  Our phones are currently staffed 9 am - 8 pm Mon-Saturday and 12 - 4 pm on Sundays.  Please call us at 603-841-2350 for telephone supports or crisis and check out all our virtual services..." including VirtualYoga in Recovery.
Virtual Moms in Recovery group at SOS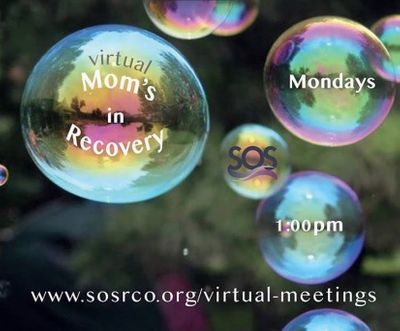 Life Ring (non-12-step based recovery community): Online video meetings, chats, and other supports https://www.lifering.org/online-meeting-schedule
Women for Sobriety (Women only): message boards and group chats. 
https://wfsonline.org/
Soberistas: Online community with chats, discussion, and online meetings. 
https://soberistas.com/
Other resources for peer support: 
Peer Support Space: based out of Orlando, FL this peer support drop-in center offers 2 Community Support Calls a day, Monday through Friday at 12 PM - 1:30 PM EST and 6:00 - 7:30 PM EST. Check out their website at https://peersupportspace.org/, as well as their Facebook page for digital support. 
To help support individuals in recovery from substance use disorder, Addiction Policy Forum has partnered with CHESS Health to launch Connections, a free smartphone app that is scientifically proven to support patients in recovery by reducing relapse and promoting pro-social engagement.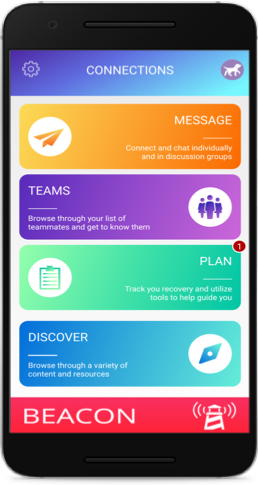 Town and Government information:
Connect with The Town of Raymond NH via their website, which has updates about office hours, policies, etc. Sign up for their "Talk of the Town" newsletter if you haven't already.  The Town of Raymond NH - COVID-19 Information Page is now available for Raymond NH Residents. If you have questions about town business office hours, this page has all the information for you, as well as more very useful information about changes happening in our town and state.
Get the latest information straight from the office of New Hampshire Governor Chris Sununu. 
Follow along with Raymond Recreation for daily online interactive games and fun!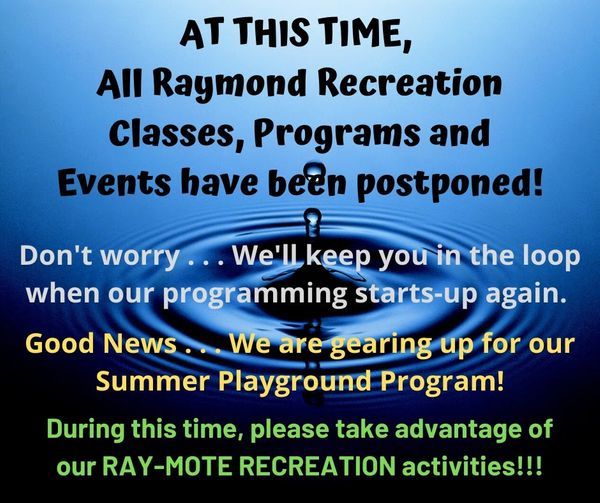 Stay up-to-date with Raymond School District via their website and social media. Take a look at their calendar.  Sign up for their Newsletter - Green Gazette, if you haven't already. 
Food Access:
New Hampshire Food Access Map:  Click on the "find food" tab at the top of this page to view the map, or view the mobile version. Please share this important information with your contacts for anyone who is in need of food. A special thank you to our partners the Raymond Baptist Church and New Life Raymond for being points in the Town of Raymond New Hampshire.
The Raymond School District is offering free emergency breakfast & lunch meals to K-12 students in our community during school's closure due to COVID-19: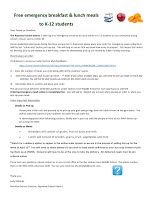 Faith-Based Support:
Humor / Entertainment:
Join The Raymond Coalition For Youth's Virtual Video Project. We invite youth, young adults and families to create a short video highlighting the people and things that help us most when we need it most. Visit our Virtual Video Project web page for more info and to sign up!
Visit with our friend, Comedian Juston McKinney, as he embarks on his new role, Homeschool Teacher at Homeschool 2020 on Facebook. He is sharing a video every day of his homeschool adventures! His videos are also on his Instagram account. 
Looking for something fun to do? Join the Facebook group - New Hampshire Bear Hunt - To help children stave off boredom during their coronavirus quarantines, people all over the world are placing stuffed animals in their windows so that kids can go on "bear hunts" in their neighborhoods. This is the New Hampshire edition of just that! Make it fun but keep it safe. Feel free to share your "Bear" sighting while giving hints as to where your bear may be hiding. No exact addresses are needed as we want this to be fun and engaging."
THANK YOU to our community partners who are helping compile lists of resources:
Seacoast Public Health Network, State of New Hampshire, Town of Raymond, Raymond Recreation, Breathe NH, Austin17House, SoRock, NH Recovery Friendly Workplace, and many more...  
Please bear with us as we are updating this page continually as we receive more resources.
---
Feel free to visit our other resource pages.  Please let us know what resources you are looking for, specific resources you may not be finding, and we will work together to get you what you need. Thank you!