Anyone could be struggling with suicide.  Never feel alone and always know there is help!
The 988 Suicide & Crisis Lifeline is a national network of local crisis centers that provides free and confidential emotional support to people in suicidal crisis or emotional distress 24 hours a day, 7 days a week in the United States. We're committed to improving crisis services and advancing suicide prevention by empowering individuals, advancing professional best practices, and building awareness.
If you or someone you know is struggling emotionally, please reach out and get support. The National Suicide Prevention Lifeline  or call or text 988, available 24/7/365.
Emergency:  911
Raymond Fire Department:  603-895-3321
Raymond Police Department:  603-895-4747
For immediate mental health and substance misuse related crisis assistance throughout the state please call 1-833-710-6477
---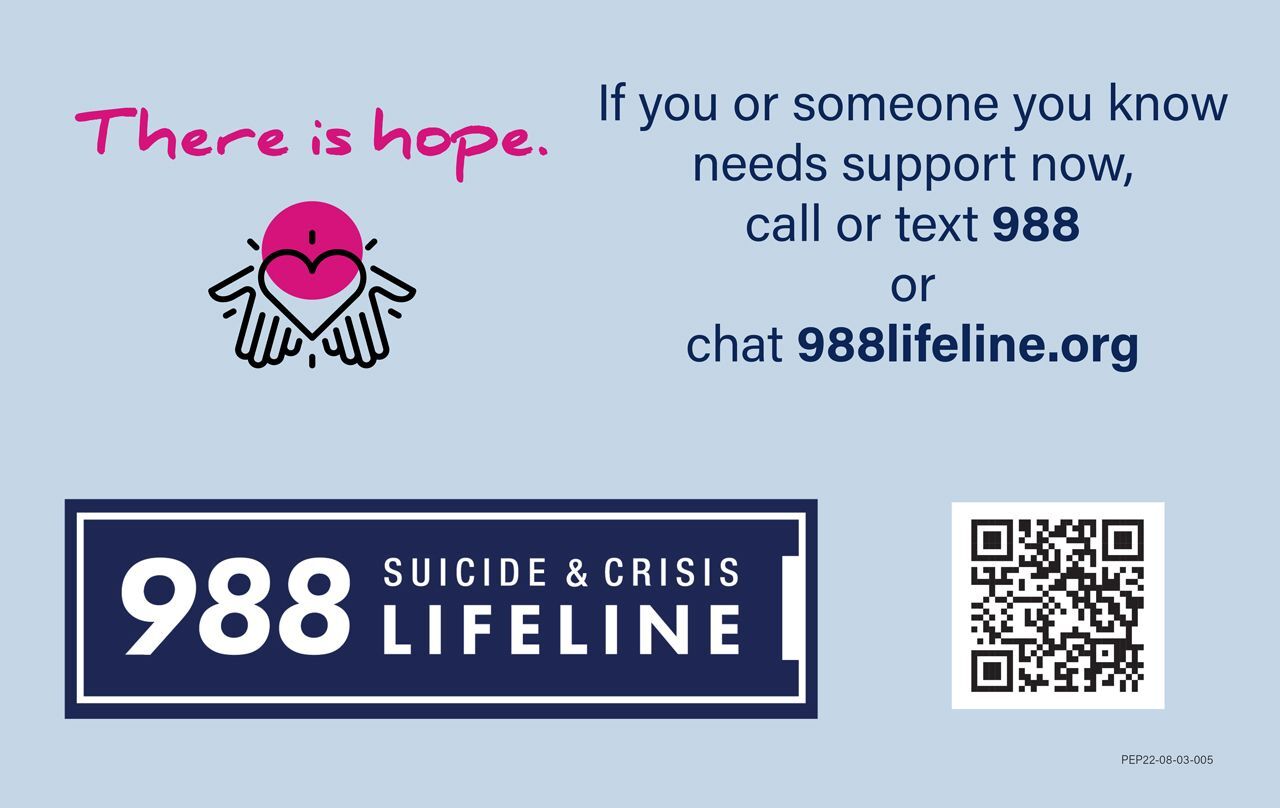 ---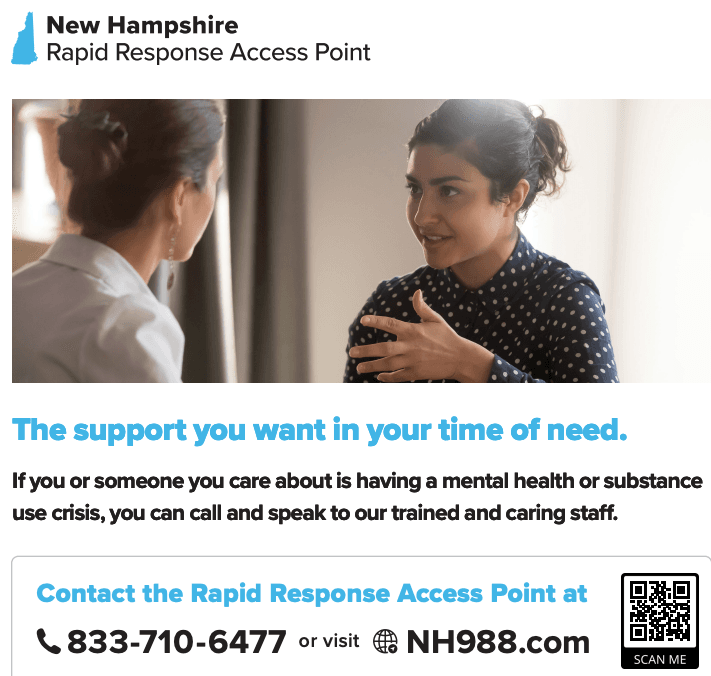 http://www.rcfy.org/_/rsrc/1529595345349/resources/suicide-prevention/1200px-Lifelinelogo.svg.png?height=320&width=289
One in five adults in the U.S. lives with a mental health condition.  Crisis Text Line is available 24/7 - Text "NAMI" to 741741. If you're thinking about suicide, are worried about a friend or loved one, or would like emotional support, call 988.   
RCFY has staff trained by NAMI New Hampshire to provide Connect® Suicide Prevention and Response Trainings (see below). 
Also available are the Veterans Crisis Line, Disaster Distress Helpline, Crisis Text Line, The Trevor Project, and Trans Lifeline.
For veterans, crises can be heightened by their experiences during military service. If you're a veteran or service member and in crisis, these resources can help. 
Know parent tips – How to fight teen depression
The holiday season is filled with peace and joy for many, yet sadness and despair for others, creating the perfect storm for the onset or worsening of depression.
 
As a parent or other caregiver, do you feel confident you would know if your child was experiencing depression? And if your child was, would you know what to do?

It is important to know that teen depression presents itself differently than adult depression in several ways. In the previous tip, Know! The Red Flags of Teen Depression, we provided tips for talking with your teen on the subject, and shared the signs and symptoms of depression, specific to teens, so that parents are better armed to recognize even subtle hints. Read and learn more here: (with these tips from HelpGuide: Parent's Guide to Teen Depression).
---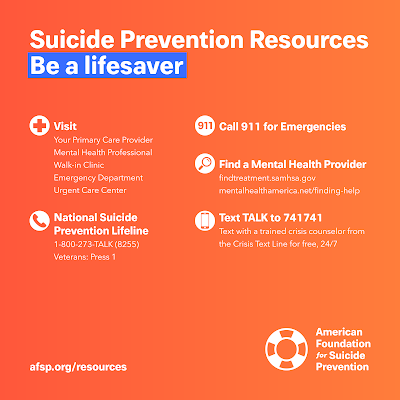 Recognize the Warning Signs for Suicide to Save Lives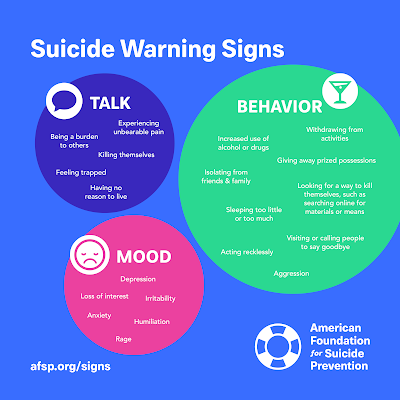 RCFY has staff trained by NAMI New Hampshire to provide Connect® Suicide Prevention and Response Trainings. Please Contact our office for more information. Call (603) 895-7061, ore-mail: info@rcfy.org
Learn more about Connect®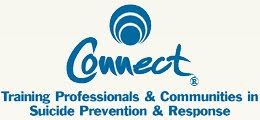 For additional resources from NAMI New Hampshire's The Connect Program, visit: theconnectprogram.org/survivors
Crisis Text Line is available 24/7 - Text "hello" to 741741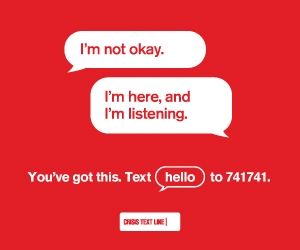 View this Vital Signs publication that has just been published in June, 2018 
from the National Centers for Disease Control and Prevention. 
Click on the picture to view the full document.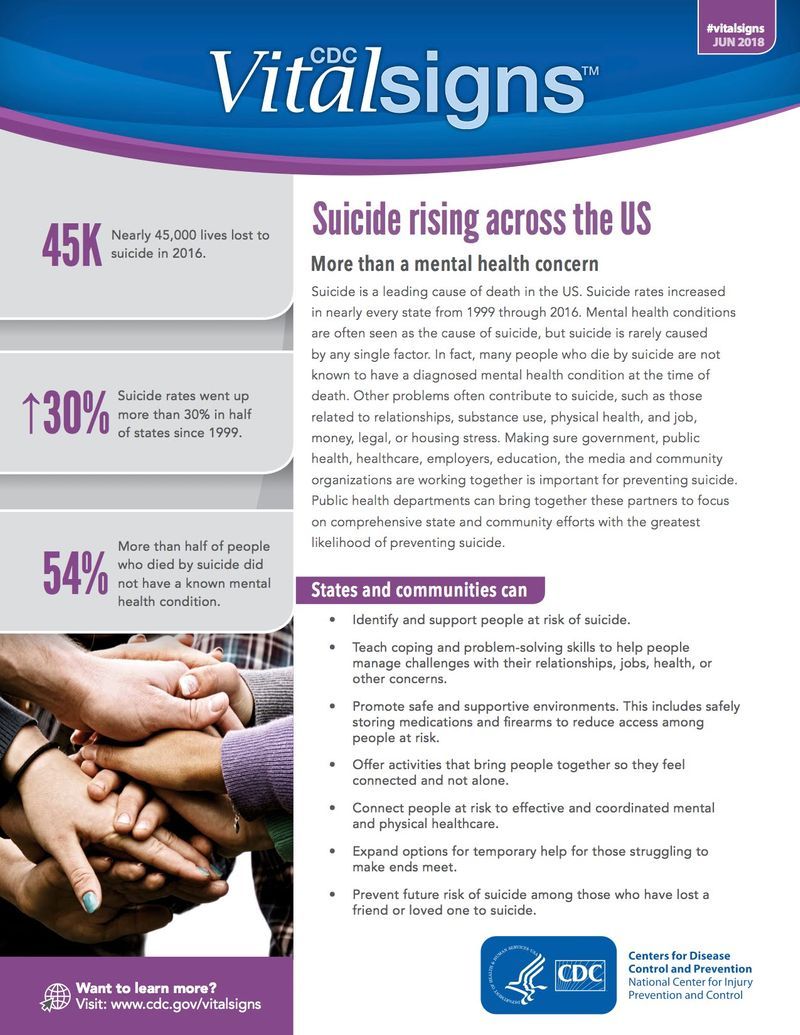 ---