RCFY is a 501(c)(3) and as such requires a dedicated volunteer board of directors.  The Board of Directors has an annual meeting when officers are elected.  The board meets regularly on the 1st Monday evening of every month, 4 pm – 5:30 pm.  (Meetings are currently held via Zoom during the COVID-19 stay at home orders).  Members of the board of directors are elected, serve terms, and represent various backgrounds prevalent to RCFY.  These meetings are open to the public and everyone is welcome.  If you have any interest in serving on the board please do not hesitate to contact our office. People who care about young people and want to make a difference are always welcome!
These are the amazing people who are a part of the governance team that keeps the coalition moving forward. 
The following are the current Board of Directors Officers and Members:
Ali Bousquin, Chair of the Board

Family Ministry Director at Bethany Church. Ali has been a member of RCFY for the past few years and joined the board of directors in 2011. We are excited to have her become Chair of the Board as of May 1, 2017.

Mark Hassenpflug, Vice-Chair of the Board

is our newest member of the Board, joining us in October of 2017. A retired Financial Planner specializing in planned giving, tax planning, and charitable trusts, he is also a very concerned citizen. He will be helping RCFY with budgeting and finance, as well as helping more of the community to be aware of our programs and services to help reduce substance misuse and abuse.

Carrie Chooljian, Secretary

is the Care Manager - Lamprey Health Care. She was voted onto the BOD in May 2016. Carrie has been involved with RCFY, attending monthly meetings for the past several years representing Lamprey Health Care. She is dedicated to the mission of RCFY and understands the value that RCFY brings to our community and beyond. Carrie has strengthened our partnership and collaboration with the medical community to better serve patients and raise awareness of the general public overall. She is a team player who brings great ideas and has a hands-on approach to making a difference.

Cutler Brown, Treasurer

Veteran & Concerned Citizen, has been a very involved volunteer with RCFY for some time. He has been working on becoming a board member for a while and we are happy to have him join us as a board member as of May 2017.

Dustin Ramey, Development Director

Financial Advisor with Edward Jones, and Raymond Area Rotary Club member. Dustin is very active in the community and brings action and commitment to helping and improving our community. Dustin recently joined the board of directors in July of 2016!

Pat Arsenault

is the director of our 21st Century After School Program in the Raymond School District. Pat grew up in Raymond and has a passion for supporting our youth and the community as a whole. He understands the importance of adults taking an active role in being involved with young people and sees every day the difference it makes. Pat has been involved with RCFY since 2006 in one way or another and was elected in as Treasurer in 2012 and as Secretary in 2015.

John S. Gagliardi

is a long-time resident of Raymond, NH and the owner of Alarm Systems Plus. John has been in business for 38 years and has served on several boards throughout the Community. John is a long-time member and past President of the Raymond Area Rotary Club. John has been a continuous supporter of the Coalition and we are looking forward to working with him on our team.

Deborah Intonti

is an Executive Assistant to the Town Manager, Board of Selectmen as well as the Human Resource Coordinator for the Town of Raymond, NH. She has over 35 years of experience in the executive business world and in her five years with the Town, she has experienced significant personal growth in the intricacies of people management through expanded education and professional development. As a new member of the Board of Directors for the Raymond Coalition for Youth, she hopes that her business savvy, knowledge of municipality government and policy writing skills will intertwine the Town and the Coalition to help bridge the gap. She looks forward to bringing important community issues to the forefront and being an advocate to find solutions to community concerns. We are grateful for her enthusiasm and willingness to take on this new endeavor as well as assisting the Raymond Coalition for Youth in our effort for sustainability and success within Raymond and the surrounding communities that we serve.

Jon Lamontagne

Jon LaMontagne joined the Board of Directors in November of 2020.
is the Pastor of Bethany Church here in Raymond. He is the lucky husband to Rachel and father of four crazy kids, including their most recent addition, baby Theo. As a family, they enjoy spending having people over to their home for bonfires and s'mores, and if you were to stop by their house in Nottingham anytime, you would probably see the yard filled with neighborhood kids and pets. Jon brings to the RCFY board a passion to see children grow-up in healthy homes, free from abuse, providing for them the foundation they need to live successful lives.

Mike Whaland

Michael Whaland, Ed.D is the Curriculum Director for the Raymond School District and part time Teaching Lecturer for Plymouth State University's Educational Leadership Department. He is a lifelong resident of New Hampshire, with over 13 years of experience working in public education. Michael has been part of the Raymond School District since 2018. He was immediately impressed by RCFY's positive influence and collaborative partnerships the coalition developed. Michael jumped at the opportunity to join the RCFY Board of Directors. He is passionate about continuing to strengthen the bond between the school district and community of Raymond.
---
Thank You to our members who retired in 2019 for their time and energy and leadership!
(Pictured, left to right: Tricia Wentworth, Greg Sevinsky, Bill Sparks and Dr. John Schermerhorn)
---
Pictured: Back Row - Bill Sparks, Patrick Arsenault, Greg Sevinsky, Dustin Ramey, and Mark Hassenpflug.
Front Row - Ali Bousquin, Carrie Chooljian, Tricia Wentworth, and Cutler Brown.

Pictured: 

Back Row - Bill Sparks, Patrick Arsenault, Greg Sevinsky, Dustin Ramey, and Mark Hassenpflug. 

Front Row - Ali Bousquin, Carrie Chooljian, Tricia Wentworth, and Cutler Brown.
The following individuals are past board members. We thank them for their time, and dedication to RCFY: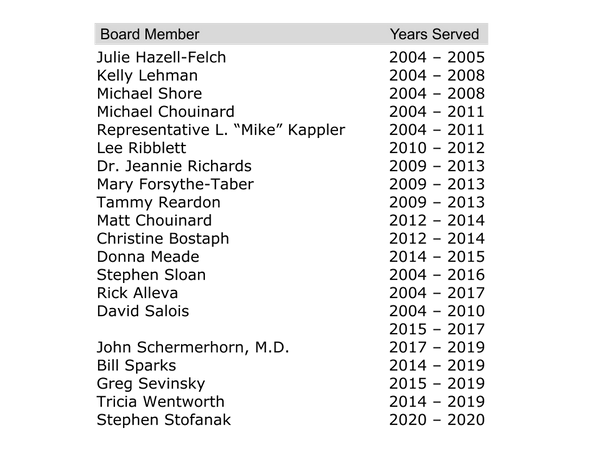 Have questions or want to learn more about our Board of Directors? Contact our office for more information.
---
Executive Director, Celeste Clark

Executive Director, Celeste Clark – In 2000, Celeste was a concerned parent, willing to get involved, take a stand, and work hard to get the idea of a Coalition going.  The University of New Hampshire invited members of the community together to have a conversation about Raymond NH youth who participated in a Youth Risk Behavior Survey sampling.  This report showed our youth to have the highest rates of past thirty-day use for Alcohol, Marijuana, Tobacco and other drugs. As a parent of four children in the school district, it was time to get involved and be a part of the solution.  

Devoting more hours of her personal time than she can count, Celeste is living proof that believing in a cause and working diligently can bring about amazing change. Celeste is a positive thinker and a true believer in empowering youth and giving them a voice. 

In addition to Celeste's infectious passion for youth and community, she is well versed in anti-drug prevention strategies.  She is a 2012 CADCA (Community Anti-Drug/Alcohol Coalitions of America) graduate and holds a certificate in Nonprofit Management, Grant Writing, and Juvenile Diversion. 

She has been successful in numerous endeavors over the last decade for youth programming, management/supervision, youth development, community building, and collaboration. 

"It is awe-inspiring to see how far RCFY has come, and exciting to see where it continues to go.  Working together, we have created a momentum for youth in our community, and we give people something bigger than themselves to get involved in and be a part of.  I love how involved our youth members get and the passion they bring to the table, but I also love that families know where to go for support and resources. Being there to help a family struggling and be able to connect them with services and supports offered by our partners is humbling.  The combination of these is honestly the inspiration that keeps me going."

Administrative Program Coordinator, Pam Turcotte

Administrative Program Coordinator, Pam Turcotte – Few understand the needs of the youth and community more than someone like Pam who has dedicated much of her time not only to the Coalition but to the many committees and boards. Pam is a local businesswoman, foster care mother, substitute teacher, and long-time resident of Raymond. She served on the Coalition's Board for four years before transitioning into the role of Finance Officer and is the current Administrative Program Coordinator, where the Coalition continues to benefit greatly from her insight and extensive financial accounting background and expertise.

Program Coordinator, Christine Bostaph

Program Coordinator, Christine Bostaph – Christine has been a team member in several capacities over the past several years.  We are very excited to announce that she is moving into a full-time position working with our Youth Action teams at the middle and high school as well as our various, and sometimes numerous, programs and activities.
Photos courtesy of Lily Jack Photography, © October 4, 2019.
Thank you SO much to Kate at Lily Jack Photography for our amazing new staff pictures!
Please visit her website: