FREE FAMILY FUN for all ages!
You are invited to join the community on January 24th, 2020, for our 15th Annual Raymond Coalition For Youth Family Fun Night event.  We will be in the gym of the Iber Holmes Gove Middle School from 6 pm to 8 pm.
This event is free to all families in the community. This FREE family-friendly event is an opportunity to learn about the great organizations, services, and resources our community has to offer.  Games, prizes, raffles and refreshments (while they last). This year we have Pizza from Pizza by George, and More, again!
We ask businesses/organizations reserving tables to pay a registration fee to help cover our costs for the event as well as benefit our mission and goals. 
Family Fun Night started over 15 years ago, as an idea from a local youth who was tired of hearing that Raymond had nothing to offer.  He suggested we start showcasing all of the great things that our town has, and the services and opportunities that are provided.  These are our Town's assets and opportunities that are provided to our youth, and we want to make sure they know about them.  Family Fun Night is a great opportunity to do just that! We have room for approximately 30 agencies, providers and establishments, to share information about their services and programs. 
Out of his idea, Family Fun Night was born.  It is an event that everyone enjoys, and at the same time, learns valuable information from.  We have informational tables describing services that are available to the citizens of Raymond, for both the young and young at heart.  All the tables are asked to offer their information as well as a fun activity or prize raffle to encourage people to visit your table.
REGISTRATION FORM TO PRINT AND SEND IN: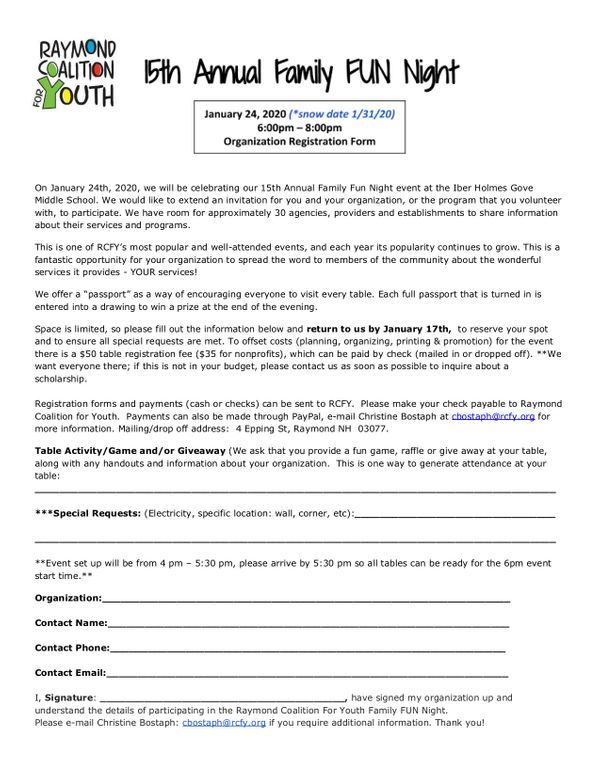 ---
Thank you to everyone who participated in our 14th Annual Family FUN Night! Take a look at our pictures, feel free to tag and share. Thank you!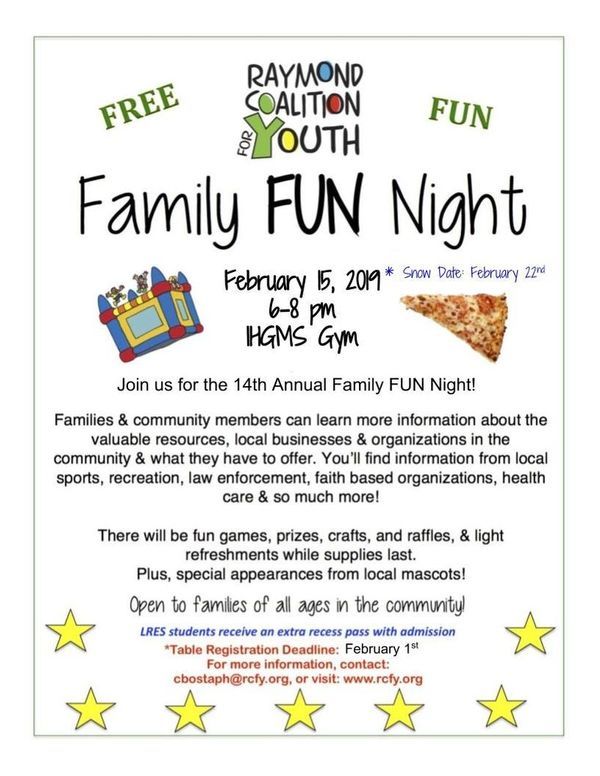 ---
Thank you to everyone who participated in our 13th Annual Family FUN Night!