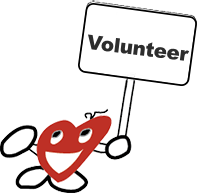 Our volunteers are the BEST!!
If you are a one time volunteer for an event or activity, or a regular we can call on to jump in, you are appreciated and make a difference!!
Interested in volunteering?
For more information about volunteering:
Please contact our office, info@rcfy.org or 603-895-7061 to let us know how you would like to help and what your interests are.  We have many opportunities, listed below, and want your experience with RCFY to be a positive and productive one for you and RCFY alike.  
 
Why volunteer for the Raymond Coalition For Youth?  
First and foremost - to make a difference.  People volunteer for so many reasons – out of a sense of service, because they have skills to share, and YES, just because it feels good to be needed!  At RCFY we believe that volunteering is an exchange.  As Susan J. Ellis of Energize, Inc. says in this fantastic article, "Adding your effort to the work of others makes everyone's lives better."    To learn a little more about RCFY you can visit a monthly meeting or connect with our staff if you have any questions or want more information.  
What type of Volunteer are you?
There are many ways to support and make a difference.  Depending on how much time you want to spend volunteering and where your interests lie, there are all kinds of things you could do!  The following are just a few examples – call our office at (603) 895-7061 to discuss how YOU might best fit into the Raymond Coalition For Youth as a volunteer.  Any and all time is appreciated.  You can give 2 hours per week, 2 hours per month, or 1 day a year, or you name it!
 
Youth Action Groups  -  Youth Action Groups meetings - youth volunteer opportunity!
Tuesdays, 2:15 at Raymond High School
Wednesdays for Middle School - after school at 2:45
General volunteer options
Attend monthly meetings and share and invited others to get involved. 
Help hanging flyers, and sharing resource cards, posters, signs & community resource guide distribution to local businesses & organizations
Help us promote and sell our RCFY Discount Cards
Community outreach - help man a RCFY table at community events such as the Town Fair, open houses, etc.
Help enroll local businesses & organizations to support RCFY mission & goals
Focus Group Leader – Host a focus group
Speaker for events
Board of Directors  - please check out the Board page for more information  
Building Committee
Prevention Summit planning committee
Annual Gala, Online Fundraiser planning committee
Recovery Friendly Work Place advocate
Historian/Scrapbooking
General office help - stuffing envelopes, copying, etc. 
Volunteer Coordinator - if you are organized and want a bit more of a long-term commitment maybe this position is for you?  We would love to chat! 
Other...
Event Volunteer task examples
Find and collect donations for our annual auction - Gala
Bake cupcakes
Spread the word to sell tickets
Advertise the event
Plan the event (live/silent auction, 50/50 and wine raffles)
Take pictures
Assemble handouts
Assemble gift bags
Decorate Function Hall
Set up and clean up
---
Please view our Volunteering Guidelines: