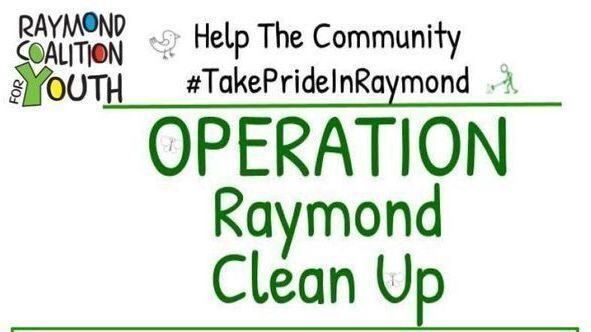 Take Pride in Raymond.  
The Raymond Coalition For Youth once again coordinated this popular town wide event with our community partners who help to make it happen.
Families and businesses both participated to make this a success. This spring town wide clean up event happens every year for anyone interested in cleaning up a section of Raymond.  We distributed Take Pride in Raymond yard signs for anyone who was interested in posting them at their location..
This is a great event to give back to the community. Thank you to everyone who volunteered their time to make our community shine.  To quote one of the young ladies who was a member of Youth Action and started this event..  "it makes you feel good when your town looks nice.."  
This event is substance misuse prevention.  Increasing neighborhood attachment and community connections!  When youth feel connected to their community they are more likely to make healthy decisions.  
This years event, 2023, also featured a wellness fair with many of our social service agencies available to provide information and awareness to services available to our youth and families in and around our community.  Our Parent Core Group also organized games and activities in the gym for the kids to have some fun, the National Guard joined us and offered fun blow up games and obstacle course for some added fun and Tuck-Away Tavern and The Puritan provided a cookout and ice cream to make the day complete.  This is community - the is support - this is incredible.    Funding to support our 2023 event was provided by the Seacoast Public Health Network.  
Some of our Youth Action groups also participated in Breathe NH's Bag the Butts as a part of this event.  Bag the Butts is an effort to raise awareness to the impact of improperly disposed of cigarette butts on our environment.  Not to mention that they do not look very nice, scattered about the town and at entrances to businesses and buildings.  This is a great prevention piece that adds an added element to our clean up event. 
---
2023 Operation Raymond Clean Up
2023 Operation Raymond Clean Up
---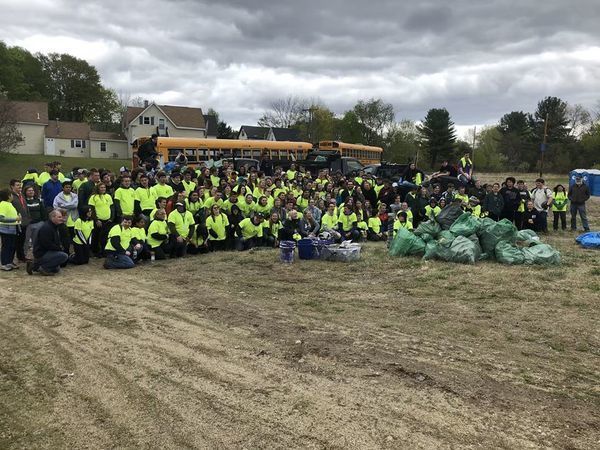 Taking Pride in Raymond Sweeps through the Town - 2019 recap
"People were thanking us, and it felt really good."  A strong comment coming from a young person.  Self-pride, community pride, involvement, appreciation, and connections are all some of the reasons why the Raymond Coalition For Youths Operation Raymond Clean Up event, in its fifteenth year, is so important.  In one day twelve hundred pounds of trash was collected and properly disposed of. 
Over the past two weeks, hundreds of people have taken to the streets, parks, and trails of Raymond NH to clean up trash, recyclables, bulk waste items, and cigarette butts.  "It's unbelievable what some people throw away, and where they throw it." Said one student.  One of the oddest items found was a loveseat; one of the oldest was a submerged shopping cart from the old Prescott Farms grocery store submerged in the river.   Several bikes, tires, liquor bottles, beer cans and four, five gallon plastic bags, full of cigarette butts as part of Breathe NH's annual Bag-The-Butts campaign to raise awareness to the environmental impact one signal butt has that is discarded out a window or onto a sidewalk.  
A very exciting part of this day is exposing people, especially our high school students, to some of the amazing locations we have in this great little town.  Riverside Park, located at the end of Sundeen Parkway, is a park that has a playground, dog park, walking trails and a beautiful field.  This is a great location for enjoying nature and taking some important time to unwind and relax.  "I am so excited; I have lived here my whole life and didn't even know this place existed." A chaperone who had a group of high school student participating in the clean-up community service day commented.
There are the rails to trails that go through Raymond from Prescott Rd in Epping to Candia.  This is an unpaved trail but wide enough for walking, running, bike riding and even has a secret spot on the Lamprey River for those who might like to go fishing or again, just sit and relax taking in nature.  
"We can always make things bigger and better and leadership plays a big role in that." Said Celeste Clark, Executive Director of the Raymond Coalition For Youth.  This year the new town manager, Joe Ilsley, wanted the town to be more a part of this event and offered for town employees to participate. "This opened the door of opportunity and helped RCFY bring the event to a new level."  Said Clark.  With the town involved RCFY was able to get the school involved and it was turned into a community service day with conversations of making this a graduation requirement moving forward.
"This was the beginning of a great relationship between the school and the town of Raymond and we are looking forward to great things happening."  Said Mr. Ilsley.   A special thank you to our police department, recreation department and public works for setting up and cooking lunch for everyone who was a part of this day.  A special shout out to high school teacher Mr. Hayes who got the grill up and going. "He's the best." Said a student waiting to eat, a comment that was repeated by more than a few students who know this is a teacher they can go to, a true trusted adult.  In the prevention world an adult like this is priceless. 
One of the goals of RCFY is to increase community collaboration and this event hit a home run.  An event like this is an example of how everyone can play a part in making something great.  A special thank you to Hannaford who provided healthy morning snacks for all of our high school students.  A special thank you to Tuckaway Tavern who provided the hamburgers, hot dogs, and water for over four hundred volunteers.  This event was made possible through the RCFY Drug Free Community grant funds and SAMHSA Partnership for Success Grant in the Raymond School District.  For more information, please visit www.rcfy.org.  Check out pictures of this great community event on Raymond Coalition For Youth social media channels.     Working together, we do make a difference!