On October 22, 2021 we will host our 8th Annual Raymond Coalition For Youth Prevention Summit. This years theme is the puzzle piece, to highlight the important role that each member, business, organization and induvial citizen plays in the success of a coalition.   The event is designed to offer a compelling learning experience, with a focus on substance misuse prevention, focusing on the protection of our children and a safe community. Each of the past seven years, our event venue has been packed to capacity.
Our breakfast presentation has become our premier awareness and engagement event to help provide information and solution-based approaches to prevention work and community engagement. Our guests represent law enforcement, schools, parents, healthcare, media, businesses, faith-based organizations, youth, and elected local, county and state representatives.
After missing a year of seeing familiar faces and partners, as well as the important information that is shared, we hope you will mark your calendar for Friday, October 22nd, 2021.  Planning has begun and we look forward to sharing more information with you. Our special speakers this year are Dr. Allison Roy, DEA Special Agent Jon DeLena and our very own RCFY Youth Action members.  A copy of the invitation is below. 
If you are interested in attending or volunteering for this great event please contact our office info@rcfy.org or 603-895-7061.
A special thank you to our 2021 Summit Sponsors. 
(Logos to be added as they are received).
2021 RCFY Prevention Summit Sponsors
---
8th Annual RCFY Prevention Summit Invitation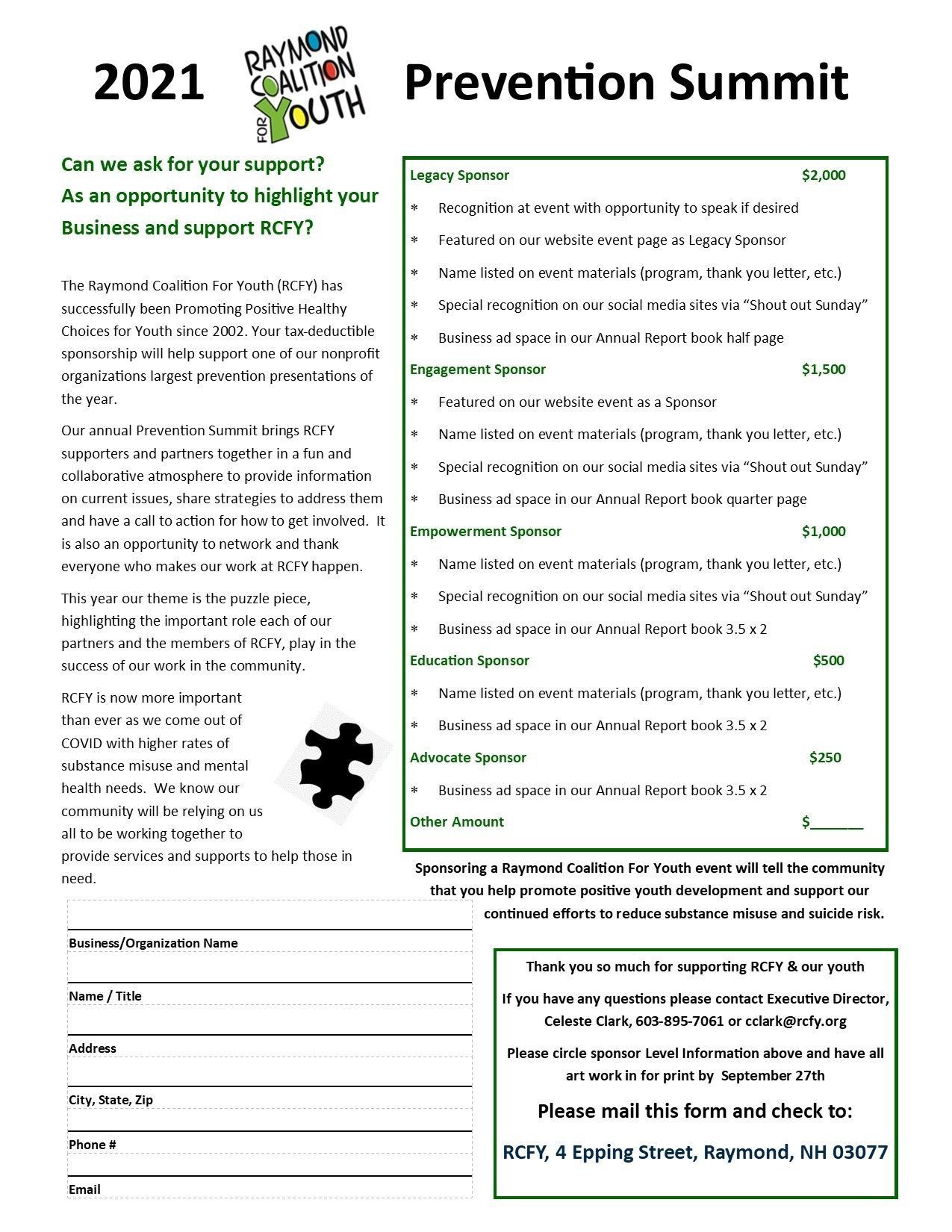 Our 2020 Annual Community Prevention Summit, virtually.
---
Each year we have been very fortunate that our partner, Raymond Community TV, has recorded our event. 
You can view past year's Prevention Summit's on our RCFY YouTube Channel
---
View Previous Event Highlights:
Visit our Facebook page for pictures from the event. Feel free to tag and share! 
---
Thank you to our 2019 premier sponsors, including:
Empowerment Sponsors:
---
---