The Cam Baer Memorial Disc Golf Course at Riverside Park in Raymond
is officially open.  Please see below for the story, a map and great video
highlighting the park.  It is a great place to get out in nature and have fun
and the best part is it is FREE.  
Raymond Opens Disc Golf Course at Riverside Park
September 18th,2022
The Cam Baer Memorial Disc Golf Park at Riverside Park in Raymond is officially opened to the public.
This was a project two and a half years in the making, that started just before COVID and carried through to completion this past weekend.  
The Raymond Coalition For Youth (RCFY) was discussing the idea of a disc golf park in Raymond NH to offer a fun activity to engage young people, young adults and families alike, to get outside to enjoy nature, get exercise and enjoy time with family and friends.   Being able to highlight the existing Riverside Park, a great location full of resources that many in our community are unaware of, was an added bonus.  The park features walking trails, a small playground, picnic area, a dog park and a green space with a stage for concerts, plays and presentations.  It is located at the end of Sundeen Parkway.
In the spring of 2020 RCFY staff were introduced to Vicki, Craig and Carleigh Baer, a family who had recently lost a son, who was an avid disc golf player.  They wanted to create and build a course in his memory.  They had not decided on the location and friends of their son had only just begun to start raising funds to see this to a reality.  RCFY staff shared with the family the idea of working together and using the RCFY partnerships and relationships with the town of Raymond to achieve the goal of both RCFY and the family.  That is when the true planning began.
What is disc golf? Disc golf is played much like golf except, instead of a ball and clubs, players use a flying disc. A disc golf hole begins from a tee area and ends at the basket. The goal is to throw the fewest amount of shots. As a player progresses down the fairway, they must make each consecutive throw from the spot where the previous throw landed. The trees, shrubs, and terrain changes located in and around the fairways provide challenging obstacles for the golfer. When the 'putt' lands in the basket, the hole is complete.
Patrick Asenault, Board Chair of RCFY, introduced the group to Dennis Grzywacz of Acme Disc Golf, who designed the course, which is already getting rave reviews. We have eighteen baskets, along with a practice basket when you enter the parking lot. Dennis stated, "It has been an amazing process to watch and be a part of.  We became a part of a small family that got us all to here today, and made the park happen."  
Hundreds of volunteers later, and thousands of hours of working together, the course is complete.  We would like to extend a very special thank you to all of those who made a donation to make it possible.  All eighteen baskets have a sponsor, some contributed to the Raymond Coalition For Youth NH Gives Disc Golf fundraiser, and many of Cam's friends and family donated to the Cam Baer GoFundMe page.  We would also like to recognize Epping Boy Scout Nathan McTague who did his Eagle Scout project to provide benches at each tpad.  
The park is not only a memorial to Cam Baer but to many families who have played a part in making it a reality.  For some who have lost a loved one to substance misuse or suicide, the park "is a spiritual place where we can come and remember, and be grateful.  The park is full of love."  
At the ribbon cutting on Sunday Cam's dad addressed the guests, "Cam loved his family and friends, and he loved the game. This park is his gift to us all.  Thank you to everyone who helped us make it happen."  Craig Baer, 
The Raymond Coalition For Youth could not be more grateful to have been a part of this process. "This course took our community working together and pitching in to make it happen, that is what RCFY is all about, doing things together to support our youth and community.  A very special thank you to the Baer family, Vicki, Craig, Carleigh and Grampa Bill Margaritis, and everyone who stepped up to help make this a reality.  This course is an example of our community, and we have a lot to be proud of.."  Celeste Clark, RCFY Executive Director. 
The park is open to the public and it is free to use the course.  You will need to bring your own discs.    Our afterschool program director is already looking forward to bringing students out to teach them the game and inspire the next generation.
The mission of the Raymond Coalition for Youth is to provide positive healthy choices for youth and reduce youth substance misuse and suicide risk, to learn more check us out on social media or visit rcfy.org.  If you have questions call 603.895.7061 or info@rcfy.org   You can also visit the Facebook group, Cam Baer Disc Golf Course at Riverside Park in Raymond to learn more about the course.  
Thank you for supporting this great community effort and increasing opportunities for people to get outside, enjoy themselves and have some fun.  If you are interested in using the park for a tournament or other event, a permit is required as it is located on Town of Raymond NH property.  .  
Donate anytime to our Disc Golf project, safely and securely via PayPal: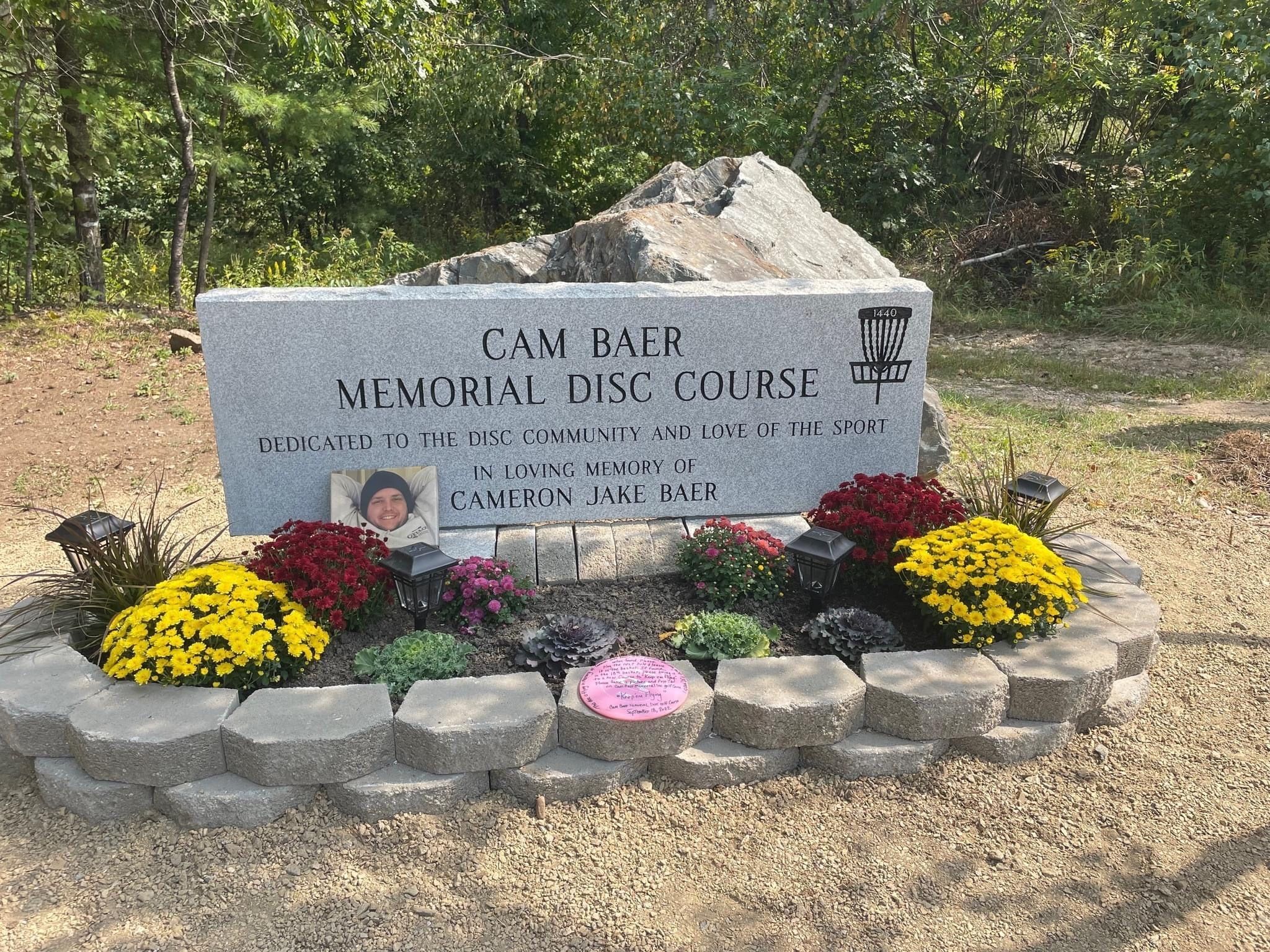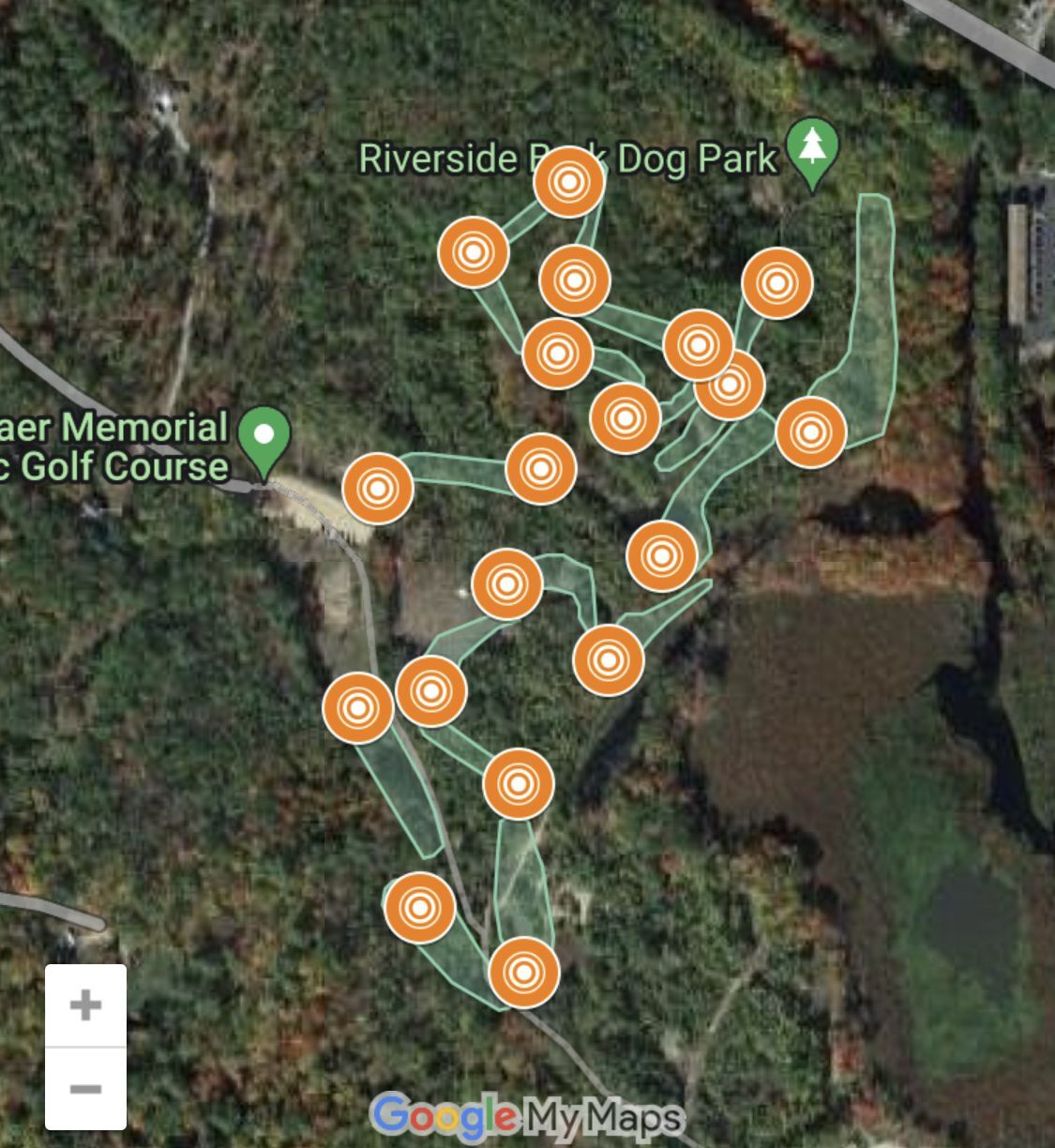 Cam Baer Memorial Disc Golf Course