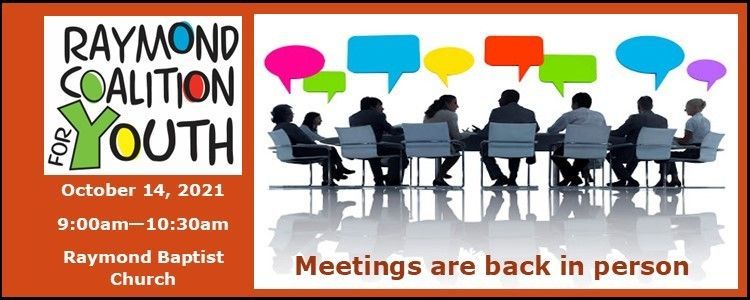 "Working together we achieve success!"
You are invited to join us at our Raymond Coalition for Youth monthly networking meetings.  RCFY is our community working together and includes participants from the community, schools, law enforcement, healthcare, media, town government, youth-serving organizations, youth, and parents, who all come together to learn about new trends, brainstorm new ideas and share knowledge of available programming, networking opportunities and services. 

Our meetings will resume back in person, effective July 2021, at Raymond Baptist Church on Route 27 in Raymond.
2021 meetings:  Held the 2nd Thursday of every month, 9:00–10:30 a.m. Everyone Welcome! 
October 14th, November 11th NO MEETING - Veterans Day,  and December 9th
If you have any questions please contact our office:  603-895-7061  or info@rcfy.org
---
If you are interested, here are a copy of upcoming meeting agendas and the meeting minutes from past RCFY meetings.    If you have any questions please let us know.