2020: Due to COVID-19, we the DEA has canceled the Spring National Prescription Drug Take Back Day.
Please visit our Medication Safety - Prescription Drugs resources page for tips on how to safely dispose of medication, places that you can bring medication for safe disposal and how to store it safely until you can dispose of it properly.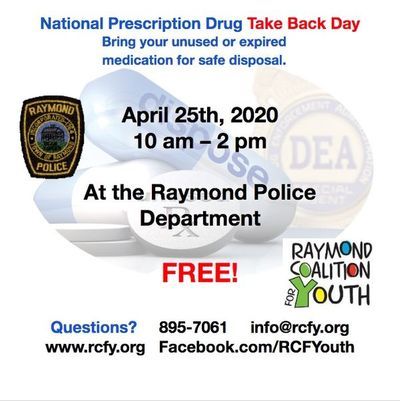 Thank you to everyone who participated in our 2019 Fall National Prescription Drug Take Back Day and helped to dispose of 143 pounds of medications safely, including one vape device!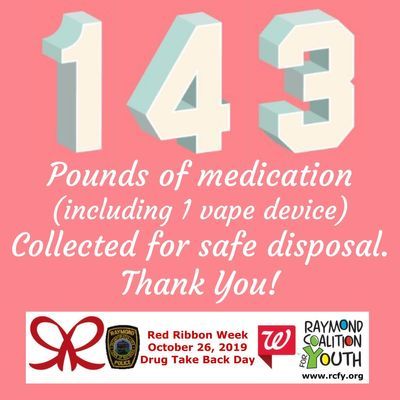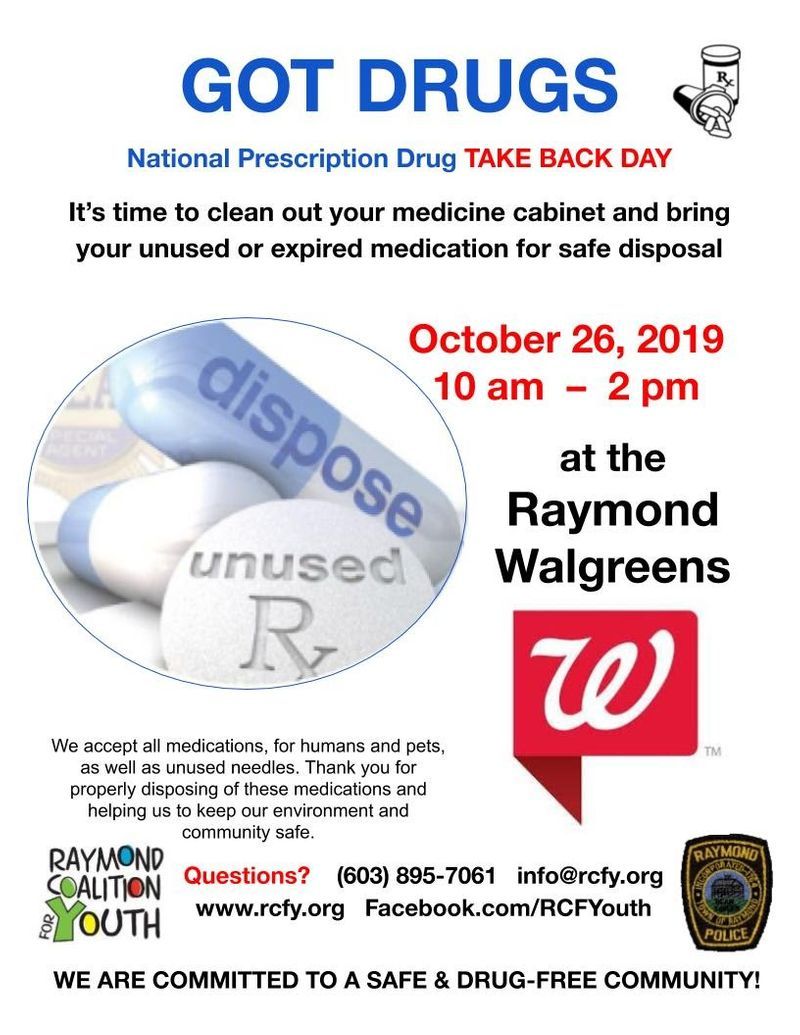 In an effort to raise awareness of the impact Vape devices have on our environment, these will be accepted at the take-back event – ONLY if the batteries are removed.  It is important the public knows that these devices are not only dangerous to people's health but also pose a large impact on our environment.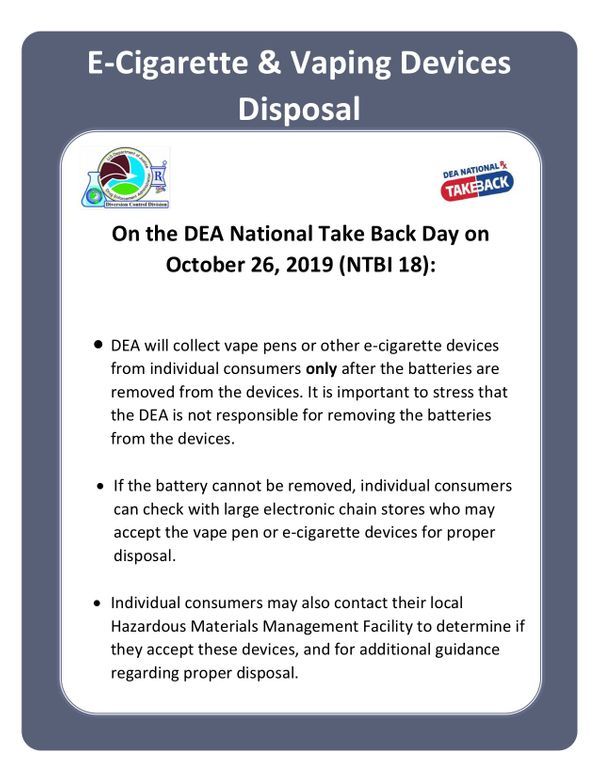 ---
Raymond NH had a very successful DEA Take-Back event on Saturday, April 27, 2019:
This effort collected 350 pounds of medication for safe disposal!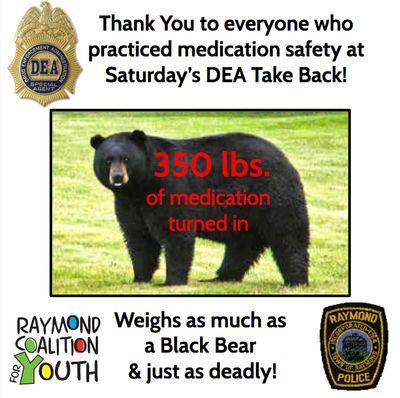 Thank you to the Raymond Police Department for working with us to make this a community friendly event to promote the importance of medication safety.  
Thank you to the Raymond Fire Department for letting us use one of their bays so we could stay dry and out of the rain.
Thank you to DEA agent Jon DeLena for amazing press coverage, who mentioned the Raymond Coalition For Youth community event several times on WMUR, and on the radio 95.7, on Friday. 
Thank you to Walmart who generously provided volunteers Jason and Greg, as well as hot dogs, donuts, water, coffee and two very exciting prizes for a raffle.
Thank you to WMUR who stopped by on Saturday and interviewed us.  We were on the WMUR 6 pm news Saturday evening.
Stay tuned for more updates from WMUR!
This event was prevention!   Reducing access to a substance that can be abused and providing our community information and awareness on medication safety – use, storage and disposal. 
Thank you to those who stopped by and joined us on Saturday.  We heard a lot of great stories and there were some very big smiles on little faces as Lt. Shevlin showed off the police motorcycle.  
Please check out the pictures that captured this day on our social channels, https://www.facebook.com/RCFYOUTH/  and feel free to share this great graphic that puts into a NH perspective how dangerous these drugs are.
Working together we do make a difference.  This was a true community partnership and resulted in a super success!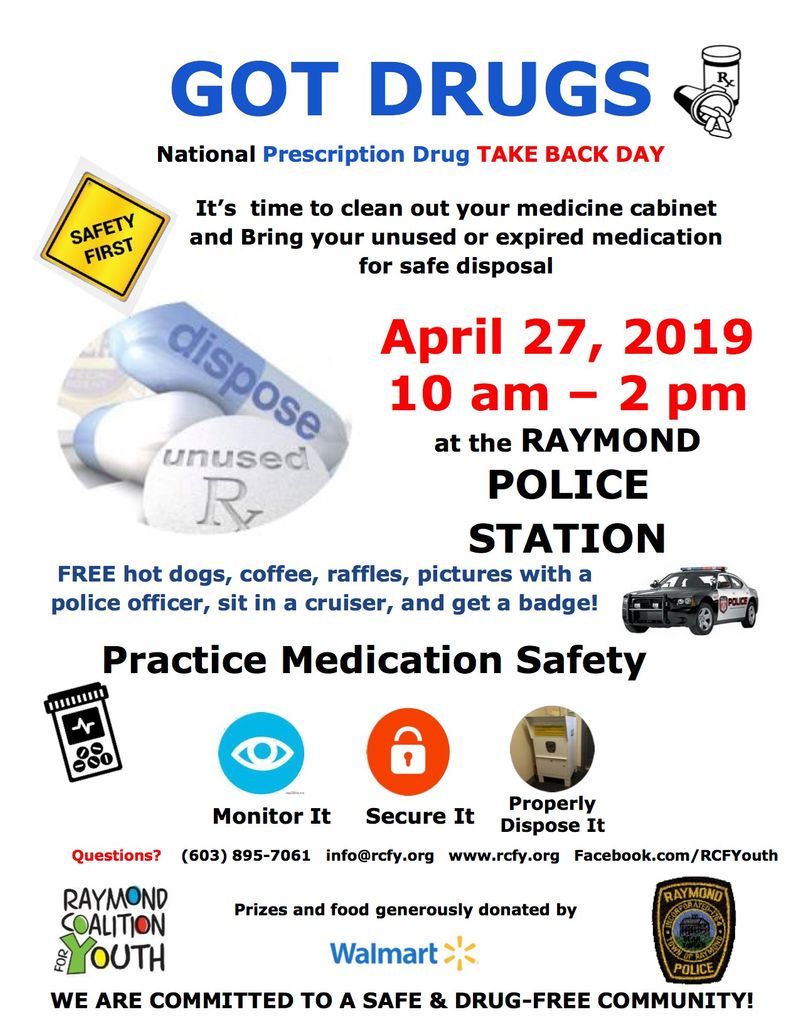 Tips for Parents about Prescription Drug Misuse: This video is just over 6 minutes long - very informative and helpful.
National Prescription Drug Take Back Event
October 27, 2018
Thank you to everyone who came out for our second event of 2018. 
We collected three full boxes of medications to be disposed of safely!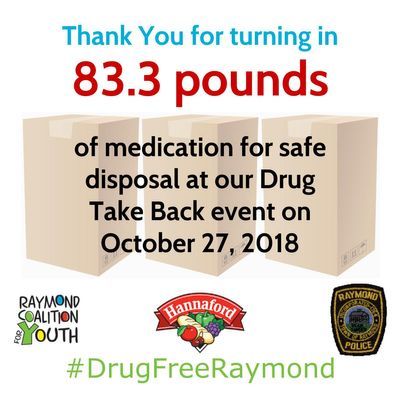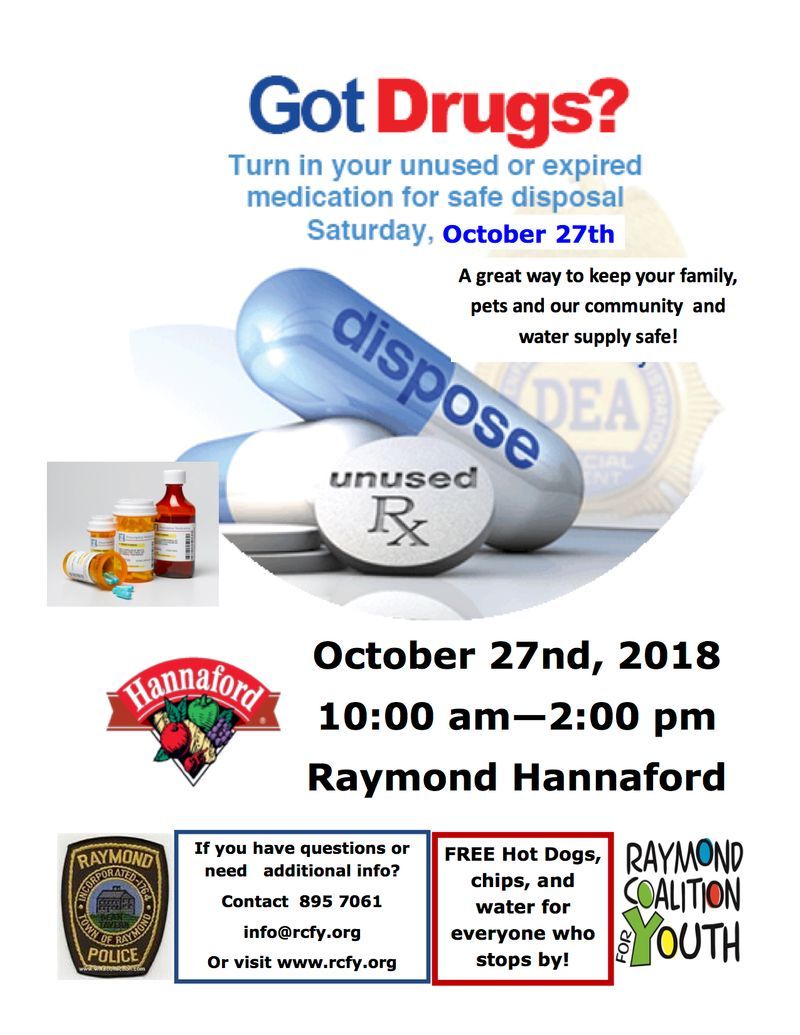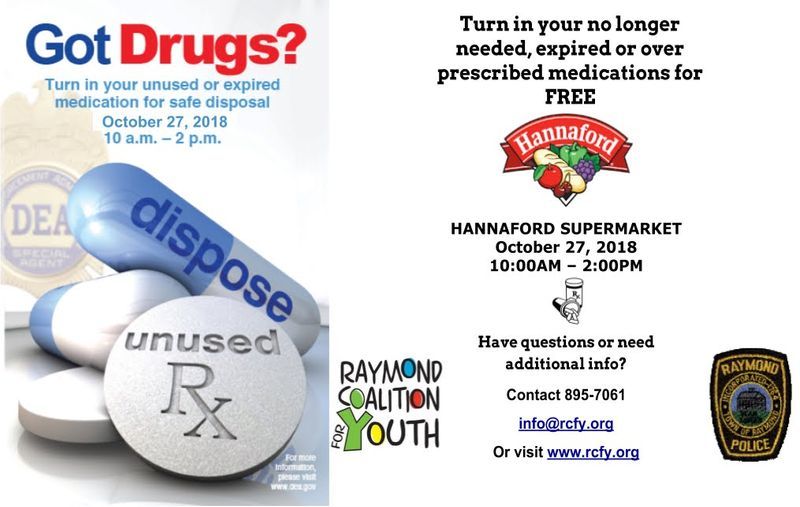 ---
Thank you to everyone who came out to our first DEA Take Back event of 2018. It was a great success!
We collected 113 pounds of medication for safe disposal!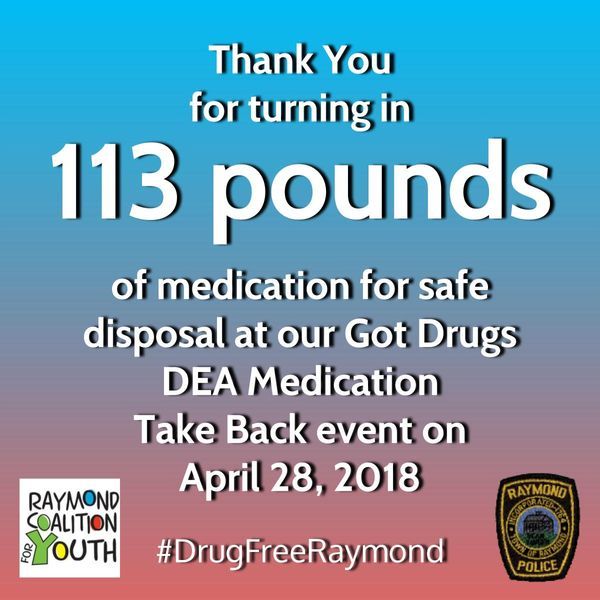 View our photo album here