DEA Got Drugs? Each spring and fall RCFY takes part in this national DEA Medication Take Back event.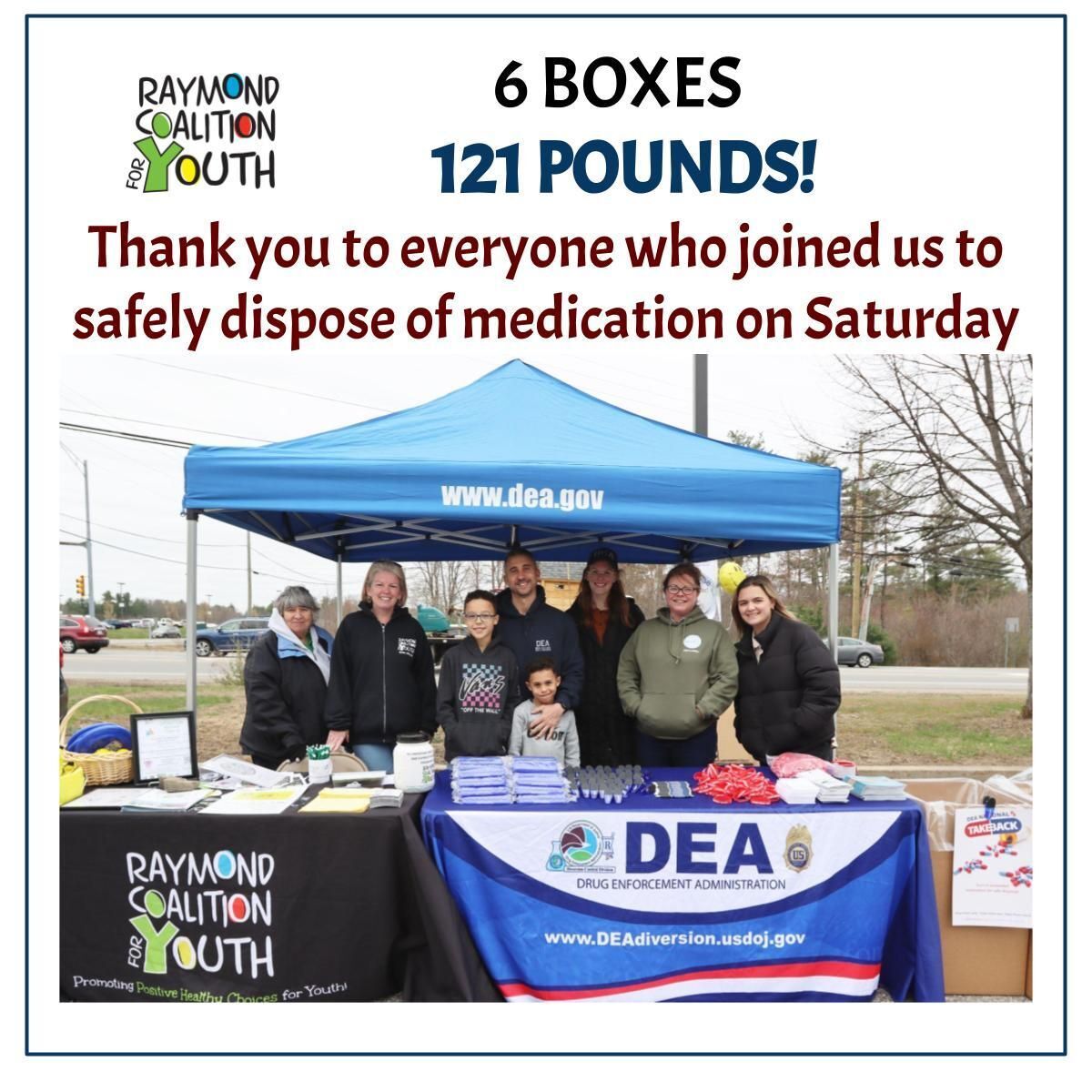 Thank you to everyone who stopped by to safely dispose of medications on Saturday at our #DEAHQ Medication Take Back at Walgreens We collected 121 POUNDS for safe disposal. Thank you to the Raymond NH Police Department for being a part of this important awareness and prevention event and Walgreens for hosting us. We are lucky in Raymond to have so many people dedicated to the work of #rcfy. To learn more visit www.rcfy.org
RCFY is proud to participate in this event.  It is an opportunity to work with our partners in prevention to limit access to commonly misused medications. 
Thank you to the Raymond Police Department for partnering with us to make this a community friendly event, to promote the importance of medication safety.  
This event is prevention!   
Reducing access to a substance that can be misused and abused.
Providing our community information and awareness on medication safety – the importance of proper use, storage and disposal. 
Thank you to everyone who stops by to take advantage of these important events to safely dispose of unwanted and no longer needed medication..
Working together we do make a difference.  Community partnership results in success!
Medication Take Back FAQ  (Frequently Asked Questions)
1. Bring your medication to the location listed above.
    They can be in original containers and you can leave the labels on - no one is going to see them or touch them. 
2. Toss your bottle, bag or box of medication into our DEA Box - no questions asked.
3. Once the box is full we tape them up and they are brought to the incinerator.  
4.  We do not take used sharps. You can take used sharps, put them in a laundry detergent container, secure cap with duct tape, mark sharps and put in trash. 
---
Please visit our Medication Safety - Prescription Drugs resources page for tips on how to safely store, monitor and dispose of medication, as well as places that you can bring medication for safe disposal.
Medication Take Back events out in the community.